HandyTrac, the leader in key control solutions for multifamily, student and military housing has been developing and innovating key control systems for more than two decades.
Unlike physical (paper and ledger) key control systems — which can be lost, damaged, subverted or stolen — HandyTrac's cloud-based systems are both maximally secured and immediately accessible to more than one individual at a time. This security is delivered through automated management which allows key access only by authorized users with preset PIN codes, access cards, or biometrics, depending on the model. Keys taken out of the cabinet are instantly reported and reports are available in a number of formats which may be accessed online, printed, or delivered to a PC.
---
Accessed using a badge or pin, the Standard Touch is the exemplar among computerized key control systems. Connected to the Internet, this HandyTrac model delivers dependable, fully automated backup of activity at an eminently affordable price.
The Standard Touch model is easy to use — making employee training a breeze. Eminently secure thanks to its 18-gauge steel key cabinet, the Standard Touch operates using coded keys that are arbitrarily rotated when returned, making them completely untrackable.
Data is stored in the cloud, and further secured thanks to a hierarchical system which delivers reports for more than one location with a single login. Long-term records are archived to make the system more streamlined, and the Standard Touch is available in single and double-cabinet options.
---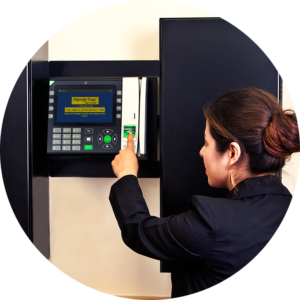 The Premium Touch model delivers the gold standard in flexibility, reporting, and security. A simple touch provides instant reports, whether the user is looking to check the reason for a particular key withdrawal, or merely the last time the key for a particular unit/room was withdrawn.
Offering the largest display in a single unit, the Premium Touch allows users to monitor keys out in relation to work orders. It also provides visual screen codes which eliminate much of the typing mistakes of older systems, while also facilitating work order flow.
In terms of sophistication, the Premium Touch integrates One Touch Building Pull, which lists units for each building to make pulling multiple keys even easier, and all without an extra inch of desk or wall space.
The Premium Touch also offers an integral Wi-Fi connection, which, along with dedicated hardware and software, makes accessing all the HandyTrac cabinets in your system even easier. Most important, the Premium Touch offers the key-control paradigm in terms of security, reporting, and flexibility in a system that permits review of individual work orders with a single touch.
---
Key control systems you and your residents can trust
HandyTrac's key management system can be interfaced with an overall building security system, providing layers of safety and defensibility for multifamily, student and military housing.
Contact us today to learn more about our key control systems.