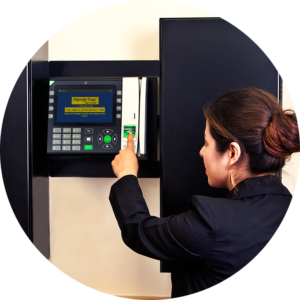 It's never too late – or too early – to implement a key control and management strategy. A good key control and management system is organized and formal, and addresses both access to and control of a property's keys.
When deciding which system best suits your needs, keep these 8 basics in mind:
1. Tracking: A tracking system lets you know where keys are and who has them. The system records who took keys, when and for how long.
2. Cost: An electronic key management system can pay for itself when compared to the cost of loss and/or replacing keys on a regular basis in addition to the ROI gained from improved security.
3. Security: Key management systems are designed so that only authorized users can access keys and the management of keys is controlled.
4. Scalability: As your needs grow, the system can be expanded to accommodate more key cabinets. HandyTrac offers single and double cab options for all it's key control systems.
5. Convenience: A key management and control system is easy to use and can accommodate a variety of keys. Biometric fingerprint verification, touch screen display and lighted cabinets add to the ease of use.
6. Integrity: Rugged 18 gauge steel cabinets and tamper-proof doors enhance the reliability of the system.
7. Access: PINs, access control cards, biometrics or any combination of the three are the most commonly used methods for accessing keys.
8. Aesthetics: Well designed key systems and cabinets make key management simple for all users. The HandyTrac Touch features a large touch screen display, biometric reader and badge reader for ease of use and maximum security.
---
About HandyTrac
For over 20 years HandyTrac has been the low-cost leader in multifamily and military housing key control; managing keys for more than 3,000,000 apartment homes throughout the country. Our cloud based systems offer instant access to archived reporting and provide the ability to manage your communities with a single login through your computer or smartphone.
---
This article was originally posted by Key Control Systems