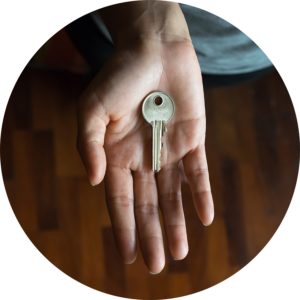 Any professional property management company is obligated to ensure the privacy and safety of their residents. With HandyTrac's state-of-the-art key control systems, the anonymity of residents is guaranteed thanks to three levels of electronic security — electronic key or biometric interface, a passcode, and a random identity key.
How does it work?
The anonymity of a HandyTrac cabinet is maintained through a cycle of using and replacing a specific key — insuring that no one is able to readily identify the location of any apartment, number, or the name and status of the occupant.
Electronic key control systems also provide for those employees who persistently lose their employee badges, and enables community staff to ask for key tags for an entire building in a single step. Additionally, the biometric interface does not require additional desktop or wall space, which can be a deal breaker in today's "smaller is better" building paradigm.
HandyTrac offers key control programs for multifamily, student, and military housing. The system also provides for the patented HandyTrac Online, which automatically backs up vital data offsite in a class A, military grade security environment. This hardened system provides activity and security reports, a continuous warranty, and a toll-free tech support phone number.
Key control systems keep companies safe, too
The HandyTrac key control system guards against lawsuits based on premises liability law. This law underlies the legal principle that argues for a landlord's responsibility to a resident when said resident is harmed as a result of the landlord's failure to maintain a specific threshold of security.
When company security and human safety are on the line, HandyTrac is the answer. Contact us today to learn more about which of our key control systems is right for your property.