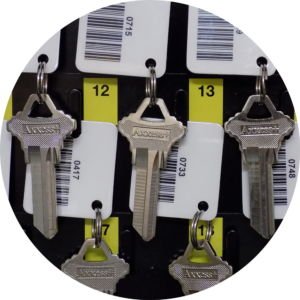 As multifamily properties have grown in size, complexity and scope, their key control security and management needs have risen exponentially. Property owners are facing mounting costs and a dizzying array of technological solutions, all in the context of ensuring a secure key management system. Many times in such situations the best path forward lies not in additional complexity, but rather in simplification.
Key control systems can readily answer the twin demands of risk management and increased accountability by securing keys in a tamper-proof cabinet, releasing them only to authorized users and providing pertinent usage information to management. For example, automated key control systems can help reduce costs associated with lost keys or unmanaged access, since management will always know who removed or returned any key and when. A user who can be held individually accountable for actions is less likely to disregard procedures or take other actions that might compromise operations.
Today's updated approach to key management is one of the most simple yet effective measures that can be implemented at any multifamily property when the goal is easy key access, security, management and control.
---
About HandyTrac
For over 20 years HandyTrac has been the low-cost leader in multifamily and military housing key control; managing keys for more than 3,000,000 apartment homes throughout the country. Our cloud based systems offer instant access to archived reporting and provide the ability to manage your communities with a single login through your computer or smart phone.