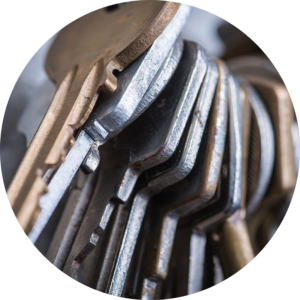 Here are 6 facts about the reality of key loss and why you should take preventive measures to avoid the risk and cost associated with losing keys.
1 – Re-keying a multi-tenant high-rise can cost upwards of $80,000 and take several weeks to finish. Even with insurance, an average deductible would run $25,000.
2 – Key loss is not only a security and cost issue – it's also a credibility and integrity issue for security firms and property management companies.
3 – The majority of keys today are simply protected by the traditional key ring attached to a belt loop. This method of key control has remained unchanged for well over 100 years.
4 – During the London 2012 Olympics, a set of keys was lost for Wembley Stadium, a major sporting venue. Replacing keys and locks costs tens of thousands of dollars.
5 – Re-keying the buildings on a typical college campus can cost up to $100,000. Last January, USA Today reported that the loss of keys costed College of William and Mary close to $500,000.
6 – G4S was forced to spend £500,000 changing ALL the locks at prison after guards lost the keys.
---
About HandyTrac
For over 20 years HandyTrac has been the low-cost leader in multifamily and military housing key control; managing keys for more than 3,000,000 apartment homes throughout the country. Our cloud based systems offer instant access to archived reporting and provide the ability to manage your communities with a single login through your computer or smartphone.
---
Written by Shannon Arnold. Originally posted here.