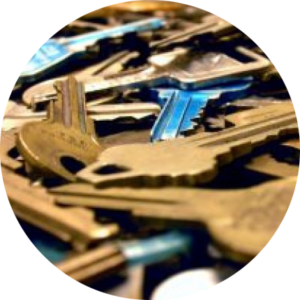 Before the advent and widespread use of electronic key control systems, key control was often a haphazard routine. Many organizations used an honor system to store and control building keys, while institutions such as correctional facilities or medical campuses used a more formal system requiring access activity to be hand-written in a log book. The procedures were often ineffective, mostly laborious and frequently left the organization exposed and vulnerable because keys could not be one hundred percent accounted for.
Electronic key control systems resolved these challenges with the implementation of authorized user codes and automatic tracking of key access activity. The automated systems made it easy for users to access or return keys with designated key slots and online monitoring for tracking key usage.
Today, the most advanced key management solutions have even more of a convenience factor while maintaining simplicity of use. The newly released HandyTrac Touch for example features a friendly interface with large buttons, a large touchscreen display and Android One Touch Building Pull integration. For added convenience, the Touch provides instant reports showing keys out, reasons, and other transactions completed by staff.
Compared to the old, dog-eared logbooks, today's key control solutions have made the task easier in addition to making it more reliable.
---
About HandyTrac
For over 20 years HandyTrac has been the low-cost leader in multifamily and military housing key control; managing keys for more than 3,000,000 apartment homes throughout the country. Our cloud based systems offer instant access to archived reporting and provide the ability to manage your communities with a single login through your computer or smart phone.
---
This article was originally posted by Key Control Systems