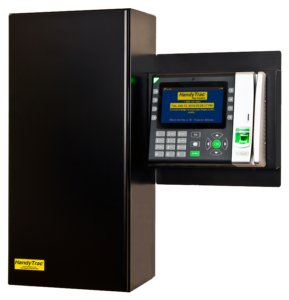 Integrating secure and reliable biometric technology with an easy-to-use touch screen, the HandyTrac Premium Touch streamlines the key control process for both staff and managers alike. With the HandyTrac Premium Touch, key control will never feel the same.
Key features include:
– Biometric technology and a large display in one unit to offer the highest level of security,
reporting, and flexibility.
– Instant reports showing keys out, reasons, and other transactions completed by staff.
– Ability to review individual work orders with one touch.
– Visual codes that eliminate typing errors, while streamlining the entire process.
– Integration of Android's One Touch Building Pull.
         – Lists units for each building, allowing for quick and easy access when pulling multiple keys.
– Easy to use and doesn't require additional desktop or wall space.
– Ability to use bar code employee badges if desired.
– Built-in WiFi connection available.
For more information about the HandyTrac Premium Touch, click here.
For a quote, contact us today.
---
About HandyTrac
For over 20 years HandyTrac has been the low-cost leader in multifamily and military housing key control; managing keys for more than 3,000,000 apartment homes throughout the country. Our cloud based systems offer instant access to archived reporting and provide the ability to manage your communities with a single login through your computer or smartphone.